4.0 out of 5.0
Now Playing: Moneyball (2011)
Topic: Drama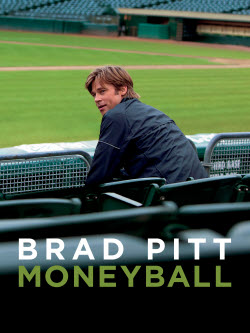 As a big time baseball fan, I thoroughly enjoyed Moneyball. If I were not a fan, would have I appreciated it just the same? Probably not. It speaks a lot of baseball language, it gets into the nuances of baseball management, strategy, politics, etc., and it is utterly fascinating. A movie like this is a gift for baseball fans, but at the same time, it begs the question - would a non-baseball fan watch it? I can't imagine why...unless the viewer is a big Brad Pitt fan, or they take a liking to Jonah Hill (who is subtle, and reserved, and plays the part very well). In any case, I consider it a great movie - it has a bright even look to it, it probes the depths of its characters, it speaks a very clear, understandable baseball language, and it has incredible dialogue.
As for the dialogue, I love hearing this movie talk. It is quick, and sharp. It comfortably speaks and conveys the complicated language of baseball and the art of negotiation, and it also makes the more emotionally heavy scenes believable as well. Nothing wooden, nothing phony, nothing corny or tacky - it is just a very well-written film.
The journey of Oakland Athletics General Manager Billy Beane is a truly interesting one. The film uses the framework of baseball to explain the main characters thought process and motivation for his actions - so even a non-baseball person can appreciate the way things clash and mesh throughout his life. It's on that level, and many other levels, why I loved this movie.
When Moneyball concluded, I ultimately felt that I could have seen more. Was there enough said? Sure. Was it too short? No. But the ride was so captivating, I did not want it to end. And that is the sign of a great movie. A great baseball movie, and a great movie.
-Kurt L.
____________________________________________________