2.9 out of 5.0
Now Playing: Eye II Eye (1999)
Topic: Scorpions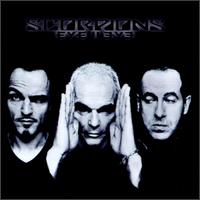 By the time Eye II Eye was released in 1999, the German metal outfit, the Scorpions, had been recording since 1972. Their sound has evolved over the years, became sometimes a bit more sophisticated, and yet sometimes simplified. But for this 1999 album, they drastically altered their sound - and not for the better.
With the exception of several excellent songs, including the main single "Mysterious", most of the album is directionless and unfortunately filler. I often try my best as a fan to appreciate the new ground one of my favorite bands treads - be it Chris Cornell for example with his Scream album, which was a great departure from his usual fare. Eye II Eye though is a clear example of an older rock band catering to a newer type of sound. When they do it well in a song like "Mysterious", it sounds good. Other times it sounds unnatural, and clearly more like a fad because you know they wouldn't keep up this type of sound forever - it wasn't going to be their new direction.
Is Eye II Eye a bad album? In a word, no, but it is not one of their stronger efforts. Frankly, it is overall their weakest. The effort is there, but the song quality is uneven. Interestlingly, the first track and the last track are the albums best. Sprinkled in between are some good solid tunes, along with some really forgettable ones. If you are curious of this album, or a big fan of the Scorpions and need to hear all of their work, I would just stick to the song highlights listed below - that's all you'll need from Eye II Eye.
TRACK HIGHLIGHTS:
"Mysterious"
"A Moment In A Million Years"
"Obsession"
"10 Light Years Away"
-Kurt L.
_____________________________________________________