4.8 out of 5.0
Now Playing: Metal Gear Solid HD Collection (2011)
Topic: Playstation 3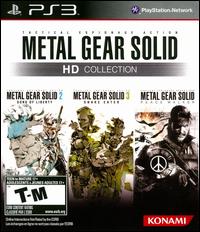 The Metal Gear franchise is one of the best and most respected in all of video game-dom. It revolutionized the stealth genre and is also considered, in my opinion and amongst others, one of the finest examples of how video games are comprable to major motion picture films. The series is known for its unforgettable characters, its signature stealthy gameplay, it's complex yet ever-compelling story, and for being the killer app in video game cinematography. So when Konami released the Metal Gear Solid HD Collection for both PS3 and Xbox 360 in the latter part of 2011, I was thrilled.
MGS HD contains three, technically five, Metal Gear games. It has Metal Gear Solid 2, Metal Gear Solid 3, and Metal Gear Solid: Peace Walker. The first two were for the Playstation 2, and the latter for the Sony PSP handheld. For an added bonus, contained on MGS 3 is the original Metal Gear and Metal Gear 2: Solid Snake for the MSX - a Japanese console. All of that great gameplay for just 50 dollars, and now, it can be found for only 39.99 at most stores! What a steal! Most games today are 60, so you are getting a tremendous value here.
I don't need to review these games one by one, as they are historically, all considered to be great. I would say that the best of the bunch from this collection is MGS 3, and it also looks the best graphically. Speaking of which, the HD upgrade to the visuals made a significant difference from their PS2 and PSP counterparts. The graphics pop on these new games and they feel as if they are brand new releases. I also thought the original control schemes held up amazingly well considering how old the PS2 games are. As for Peace Walker, the game controls a heck of a lot better on the PS3 than the sometimes stiffly inplemented controls of the PSP. The range of comfort is drastically improved when using the PS3 controller.
My only gripe is that the original Metal Gear Solid from the Playstation 1 was not included. So at times, it feels as if this collection is a tad incomplete. I would have loved to seen Solid with PS3 like visuals - it would have been a total knockout! To be honest, I've always preferred the original Solid to the games included on this collection, but that is not an insult to this bevy of games - I guess I'm sentimental about the original. In any case, while the HD Collection does not feature the first game, it is still very much worth having, because you are obviously being treated to some of the best games made in this generation, bar none.
MGS HD Collection is part fan-service - for us die-hard Metal Gear fans, and partly for those who may have never experienced these games in their original glory. Honestly, it's a no brainer, this is a game that must be owned. !
P.S.: I would suggest getting this game for the PS3 if you have that system. The Metal Gear games have always played better on the Sony platforms. Take my word on it.
-Kurt L.
_______________________________________________________